We met John Buchanan, a well-known U.S. foodservice expert, Vice President of Lettuce Entertain You Enterprises (LEYE) and President of the Lettuce Consulting Group during the pop-up restaurant project, a specific project run by the 72 students of the MSc in International Hospitality Management (an MSc in program run jointly by emlyon business school and the Institut Paul Bocuse).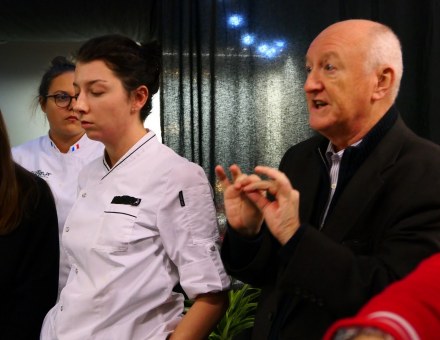 John Buchanan is the mentor of the project, teaching and managing students to create and manage pop up restaurants. With an impressive clear-sightedness and sound expertise, he gave us, through his experience, his vision of this very specific industry.

Picture on the right: John Buchanan during his brief to the MSc in International Hospitality Management students
Professional Background: 45 years of experience in the restaurant industry!
"I've been working in restaurants my entire working life. When I was in college, I washed dishes. That was my start. And I still enjoy washing dishes, I find it very relaxing" says John Buchanan, as a starter.
His first employer was a fast-casual steakhouse chain in Chicago. "Not very prestigious, but they hired people without experience. So I stayed one year with that company, but I knew there was a lot that I didn't know: wine, fine dining, fine service. I still had so much to learn! So I went to a company that had all kinds of restaurants, and I worked for them five and a half years. When I decided to leave them, I made a list of my favourite restaurants in Chicago and I thought: maybe I'll go to work for a company that runs restaurants that I really like. What I didn't realize was that my top three restaurants were all owned by LEYE. It was a good sign for working there! And I've been working at Lettuce for 40 years."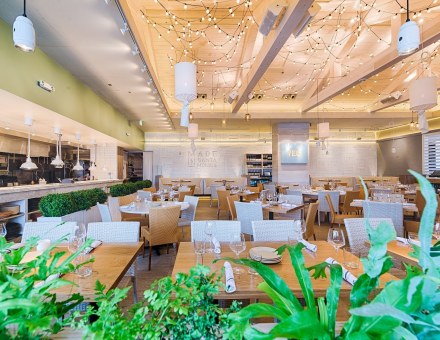 Lettuce Entertain You Enterprises (LEYE) is a restaurant group currently comprising 130 or more restaurants mainly located in the Chicago metropolitan area. They have created and operate simple hamburger spots all the way up to Michelin-star locations.

Founded by Rich Melman and Jerry A. Orzoff in 1971, the concept of LEYE is "to create different concepts with the same standard", according to John.

Picture on the left: The Summer House Santa Monica, a LEYE's restaurant in Chicago
Trends in the restaurant industry
When we ask John what would be the next trends in the restaurant industry, he playfully answers: "A lot of food writers do that. They say: "next year will be the year of fusion cooking, Asian cooking... The game I play is every year I collect those articles. When I'm in a conference and people ask me what will be the future trends in the food industry, I read my list: "Look for Filipino cooking, vegetarian, street food…". Then I show up the list: it's a list from 2008 articles! No one has a crystal ball, no one knows what's going to be popular next year. But we have, at LEYE, the reputation to listen to customers, that's how we conduct our research. Now, It doesn't always work: for example, people have said for a few years they want to eat healthy. But when they go to a restaurant, they don't really eat healthy.
I think it's the reason why there is no successful health food chain. If you need to eat an apple, you stay at home and eat an apple".
"People want healthy food, but they don't eat it"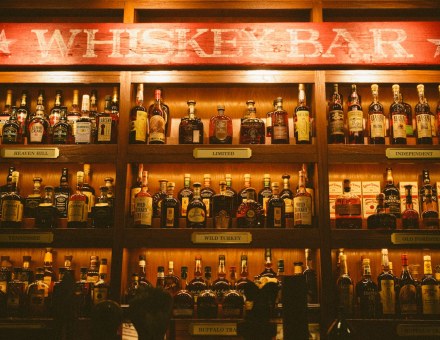 For John, there is definitely a component of the experience, a component of dining with friends and people you know, and getting something that you can't get at home. "Fewer and fewer people know how to cook, especially younger people, so if they want a tasty meal, they go to restaurants together".
According to John Buchanan, some trends are still going to evolve: smaller restaurants (under one hundred seats, which is a small restaurant in the US), healthy food, but not as a concept but as an option: "Almost all of our menus in our restaurants have healthy options in the menu, but we don't have a health food restaurant", John Buchanan said.

Picture on the right: The Whiskey Bar of Bub City, a LEYE's restaurant in Chicago
John Buchanan's motto: "Food first"
How to develop a concept restaurant? Is it better to choose the concept before defining the complete experience of the restaurant?
"It's a question of what the food is. The food dictates everything else about the experience, and this is what I taught the students. First, tell me what kind of food you want to serve.
When I know what the menu is, I can decide how to design the kitchen. A lot of restaurant owners design their kitchen before they know the menu. It's a huge mistake.If I know what the food is, that also helps me to decide where I should put the restaurant: what neighborhood, what location. What's the price of the menu, what the decor should be?"
"A lot of restaurant owners design kitchen before they know the menu. It's a huge mistake."
The restaurant industry is also a matter of organization
But why is this simple ground rule almost never considered ?
According to John Buchanan, it's a matter of internal organization and structure: "In most companies, there is an owner, a general manager, a chef, an architect, an interior designer, a marketing strategist. And what happens finally? The owner's wife decides what kind of pillows are gonna be on a couch. So you have all these different ideas, too many people. Decision by committee almost never works".
"Decision by committee almost never works"

"At LEYE, one person decides for the concept: it's the managing partner. Often he or she is someone who has come up with the idea for the concept, and all the ideas flow through that person.
They don't have to be a chef to know what food is right for the concept, they don't have to be a designer. But in their minds, they have the vision for what the concept is going to be.
That's a part of our business model and I think it's a key point in the restaurant industry".
Customer service: a speed race?
How Restaurants deal with customer service? Should restaurants look for speed of service or quality of service?
For John Buchanan, it's important to take a step back: historically, the very earliest full service restaurants had a gastronomic menu.
"They were generally places where only rich people could eat. And rich people have servants.
"Somebody should pour my water, somebody should cook and bring my food.
Somebody should take care of me." Across the years, and I think the US led to the idea that, speed is important. "I'm a busy guy, I have to eat fast. I don't want to sit here for two and half hours. I can get a tasty meal in 45 minutes." Service evolves to make it still efficient but faster. But, in the end, the food dictates what the price point is going to be. The price point dictates what the service is going to be.
If the main course is 40 dollars, you can afford to have a lot of service people on your team: front waiter, back waiter, food runner, captain...If the main course is only 8 dollars, you can't afford to have all those people: one person has to do it all.
And now, younger people tend to value their time. Everything is instantaneous gratification: I need what I want right now."

Younger People want to have a quick meal...and take photo of it!
Pop & Mom Restaurants Vs Restaurant chains
"The style of restaurant reflects, of course, the cultural specificity, but also the economic situation" according to John Buchanan. "In third world countries, there are no fancy restaurants, the street food is often dominant".
"When the economic level rises, street food tends to evolve to small mom & pop restaurants, which can offer very good food from great family recipes". The next iteration is when larger companies buy mom & pop restaurants. They have a business point a view and want to save money, so they use frozen ingredients and do easy preparation with reduced costs. And obviously, it's often a failure. But I'm convinced that we can have a different model, in which we take into account the needs and uses of customers to create a restaurant concept that can also satisfy customers and have a solid business model".

John Buchanan is a lecturer in the MSc in International Hospitality Management. The course delivered both by emlyon business school and Institut Paul Bocuse provides students with a solid foundation in general management as well as specialist knowledge in new venture creation, lifestyle hospitality management, brand design and innovation management.

Students spend four months in Lyon, three months in Paris, and three months in Shanghai Each stay has a different focus: foodservice and the restaurant industry in Lyon, Lodging Management in Paris, and International Hospitality Management in Shanghai, which includes a consultancy project with Chinese companies and projects with foreign companies in China.