Sustainability and Tourism: The two words can first appear contradictory. Tourism indeed generates air pollution with transports, waste, as well as soil and water pollution.
However, the tourism industry has made significant strides toward reducing its ecological footprint. How can the hospitality industry improve in this area? Is this trend really a true concern for travelers?
Environmental Impacts of Tourism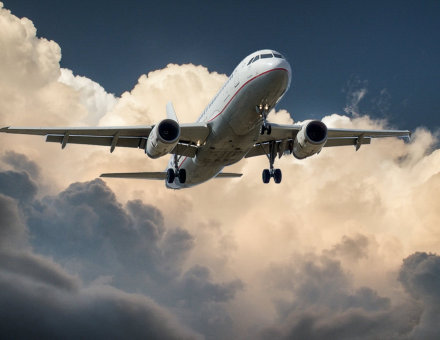 A recent study from the University of Sydney (Australia) on the carbon footprint of tourism flows emphasizes that tourism is responsible for 8% of greenhouse gas emissions.
As global tourism is constantly progressing, the problem is becoming increasingly important.
Almost all tourism activities generate an environmental impact through air and road transport, food services, accommodation and purchases.
Mass tourism is often accused of being the main culprit behind ecological damages. The drop in the price of plane tickets over the years has democratized international and long-distance trips. During holiday periods, the airplane tracking application FlightRadar registered 19,000 planes flying at the same time in the sky!
Reduce the ecological footprint in transport
With the global warming and worries about climate changes, all the tourism industry players are trying to reduce their ecological footprint.
Plane manufacturers Boeing and Airbus now develop engines with greater performance and lower fuel consumption. Planes and liners are often accused of being the main polluters, compared to trains or cars, probably due to their association with mass tourism.
Nonetheless, the ecological footprint of each means of transport is a little bit more complicated to assess. If the number of passengers is taken into account, planes are sometimes better than cars in terms of their environmental impact.
The development of electric and hybrid cars contributes to improve the environmental impact of tourism, but unfortunately, this trend is still too weak in many very tourism-oriented countries (particularly in Asia).
Ecological housing and tourism
However, transport is not the only factor of pollution in tourism. Tourists' consumption of goods and services (housing, food, shopping, etc.), also contributes to the increasing impact of tourism on the climate - a relatively neglected phenomenon until now.
Facing this challenge, many travel agencies have developed a wide range of ecofriendly vacations.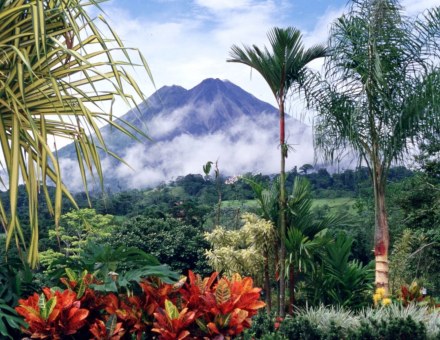 Picture on the right - Costa Rica: A pioneer in ecrofriendly tourism - Credit : Arturo Sotillo
Some destinations have specialized in sustainable tourism, attracting travelers with the promise of vacations that respect the environment and create a unique experience with natural ecosystems.
Costa Rica has become the world reference for eco-friendly tourism, an economical and political strategy that started in the 19th century. In nearly 25% of its territory, wildlife is very well preserved and 6% of the world's biodiversity is concentrated in Costa Rica.
Today, many other countries have opted for eco-friendly tourism. Among them: Kenya, with its biodiversity conservation program; Canada which has kept intact the nature of its country; Brazil and its innumerable national parks; the Galapagos Islands (Ecuador), with the visitor management system; or even the Azores (Portugal).
Natural can also be luxury!
What is a sustainable destination? The Global Sustainable Tourism established a list of criteria: supporting local businesses, conserving natural resources, and encouraging visitors to participate in the community.
Living in and watching the natural environment are also key elements of sustainable tourism. These practices meet two objectives: to raise awareness of nature and diversity preservation for vacationers, as well as to promote and save local ecosystems.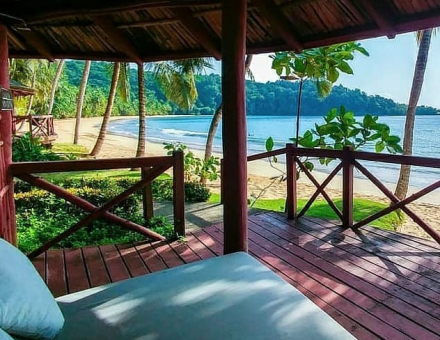 Picture on the left- The Bom Bom Resort, at São Tomé
In the Gulf of Guinea (wet coast of Africa), the São Tomé and Principe Islands bet on sustainable tourism. With only 5,000 residents, these islands are particularly preserved from mass tourism...and do their best to remain that way!
The Bom Bom Resort offers only 19 bungalows between the beach and the tropical forest. With tremendous scuba diving, whale and dolphin watching, hiking in UNESCO biosphere reserves, visiting old cocoa plantations, observing the spawning and hatching of sea turtles, the concept of the resort is to create an unforgettable and natural experience for vacationers.
Beyond this new kind of eco-friendly resort, the tourism industry has learned, as a whole, to deliver services with a lower ecological footprint. This is especially the case in hotels, which have implemented towel re-use programs, decreased their energy and electricity consumption, and turned to the use of recyclable items in their rooms. Many aspects of the hotel industry can be modified in order to respect both the environment and customers.

Sustainable tourism is now a key element in the hospitality industry for all of its stakeholders: hotels, travel agencies, airline companies, car rental companies, restaurants, and so on.
Do you want to become a global hospitality leader who is able to master new trends in hospitality Industry like sustainable tourism? The MSc in International Hospitality Management jointly run by emlyon business school and Institut Paul Bocuse provides you with a solid foundation in general management as well as specialist knowledge in new venture creation, lifestyle hospitality management, brand design and innovation management.